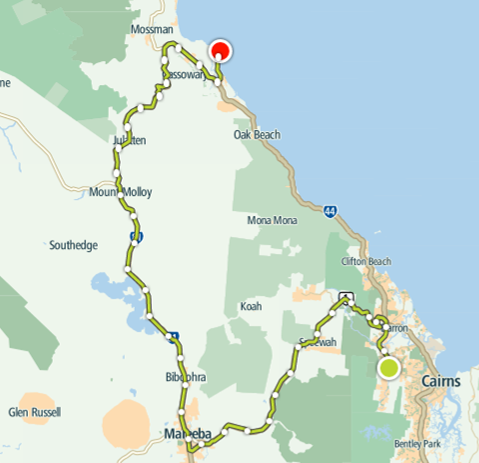 Cycle for Hope Ride Report
John Thompson 2017 Pack 2 Leader
Bright and early at Redlynch SS we met,
because at 5:30am is when coffee taste the best.
And that is the end of the poem, otherwise this would be a very short ride report ☺ So let's start again. As was said on many occasions through the day, we couldn't have asked for a better morning, when we all gathered for the last formalities before we took off on our 145ish km Cycle for Hope 2017. Excitement and maybe a hint of nervousness was in the air as people started to meet ride buddies for the day. It was great to have the smell of fresh coffee in the air to awaken the senses.
When Colin called everyone together for a final word, it struck home, this is it! Many days of training, preparing, fundraising and talking about it ends today, with the highlight of riding along this beautiful route. Pack Leaders had their final say and some words of advice to not be like little Billy, to enjoy the day and ride sensibly.
Pack 3 left just after 6am. Pack 2 had our final group huddle and off we went on the dot 6:10am. The Western Arterial Road along Caravonica greeted us with FNQ sunrise beauty and before we knew it, we arrived at the foot of Kuranda Range.
It was a privilege to ride up the Rainforest beauty of the range with a Police escort and pick-up vehicles guarding our rears. It was unfortunate to lose Denise along the way due to a mechanical, but more importantly, we all made it safely to Kuranda (there was a slight nervousness with a couple of ambos blitzing back and forth, but luckily not for us).
At Speewah it seems the little Billy advice worked as everyone still looked as fresh as the morning air, ready for a big day ahead. We regrouped and with a few movements in pack members Pack 2 headed off in single file towards Mareeba. Before we knew it, but not without multiple "undulations", the Davies Creek water stop was on the horizon. The water crew was amazingly efficient with filling our bottles and circulating super sweet watermelon. On our way to Mareeba Four Mile Ridge was passed, reportedly the highest point of the ride. "It's all downhill from here" they said??
A couple more undulations and there we were, brekky at Mareeba. The Rotary Club put out a treat of muffins, quiche, fruity delights and drinks. A lot of cyclists enjoyed the formality of public toilet queues. With smiles on our dials we heard that the fundraising total now topped $9,000 and stood amazed to hear about the efforts of the top 3 fund raisers, led by William Kent raising over $2,000. It was so pleasing to hear the stories of chaplains and the wonderful work they do for our children in schools.
With happy tummies we regrouped for our false start towards Mt Molloy. After a hasty 100m all came to an abrupt halt to Warren's regretful "Ah no, I've got a flat". With efficient teamwork (and handy onlooker tips and the ever-prepared Ruché's hand pump) the puncture was speedily fixed and we were off again. The stretch to Quade Dam was ideal to work out our two file rotating strategy. It didn't work out quite as per the textbook, but was efficient none the less. The undulations flattened out and at times it even felt like a tailwind was pushing us along. Our rotating strategy was a great way to have conversations with different pack members and many different life stories were shared.
The Quad Dam water stop brought welcomed relieve for some backsides, which by now made their presence felt. The delightful punch freshened the spirits before we headed off to Mt Molloy.
Two abreast we powered on towards Mt Molloy, our rotating strategy keeping the pack together working as a well-oiled machine. That was until we struck the last hill before lunch. The luring thought of green grass and bake-off treats was too much for some, who shot ahead on the road to indulgence. But we all got there eventually and loved the delightful treats and some more chilled punch. Lazing around, enjoying the fresh Tablelands air was a welcome break from that saddle that seemed to progressively harden up as the ride went on.
A few "surprise" undulations in the Julatten area wreaked havoc to our now well established double file format. Four Mile Ridge seemed a long way back, but none the less, a roadside break every now and then provided a great opportunity to soak in the beauty of God's creation, changing landscape from Savannah lands to the rolling greenery of tree lined hills, whilst munching away on colorful Monster Snakes.
Persistence brought us to the jaw-dropping views at the Mossman Rd lookout, with plenty of time to spare of photos of our front- and backsides. And then it was time to reap the rewards of our hill-climbing bravery. The sweeping, hair-twirling bends descending down the Rex Range took everyone's breath away. Gone were the thoughts of "why am I doing this to myself?" by the time we reached the regrouping point, with the only thing broken, a PR or two.
Back on the highway to Port, we powered on in single file formation, heading into the neverdisappointing coastal headwind. All worked well together with the end in sight. A sigh of relief when we turned onto Port Douglas Road, down the avenue of glory to the finish line. The hugs and claps of family awaited us, making us feel like the champions we are for riding the whole day.
A few last words from Colin and his crew and we were left to reflect over a coldy about the day's achievement.
Ride Report by John Thompson 2017
Want to Ride? Register Now.