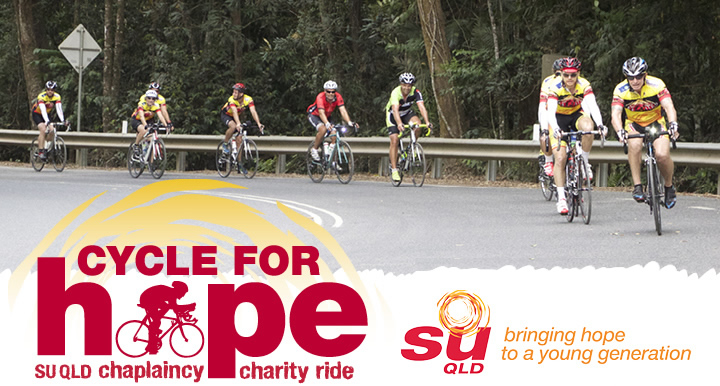 Cycle for Hope Is a charity bike ride travelling from
Redlynch to Port Douglas via the ranges to raise awareness and funds
for SU QLD's Chaplaincy Service in the FNQ region.
Ride date = May 25th 2019
Registrations are still open! 
(The 2019 jersey order has already been placed, however you are still able to register and join us on the ride without a 2019 jersey.  We did order a few spares so email us on the contact page to see if there are any left in your size.)
2019 Goals – 80 Riders – $25000
145km. Different paced packs. Water, Breakfast and Lunch stops. Suits regular to tragic riders.
Cycle for Hope 2019 Countdown
What is Chaplaincy?
SU QLD chaplains, or 'chappies', provide spiritual and emotional support to school communities. They are in the prevention and support business: helping students find a better way to deal with issues ranging from family breakdown and loneliness, to drug abuse, depression and anxiety. They provide a listening ear and a caring presence for children and young people in crisis, and those who just need a friend. They also provide support for staff and parents in school communities.

Want to Ride?
Register Before April 14 to get a CFH branded Jersey!
Interested in being a Sponsor?